BARDO NOISE
Joachim Montessuis & Horia Cosmin Samoïla
google temporary crash translation :
Bardo is a Tibetan word that means "interval" between death and rebirth.
Interval of perception, interval between two worlds, potential bridge between the visible and invisible, Bardo_Noise is an interactive installation on 8 screens that develop an extreme attention to stimulating the observer with a saturated and sensitive environment. An increased / disturbed spectral captations (local and global electromagnetic spectrum) and digital snow invites us to explore our perception of reality by giving free rein to the human capacity to organize chaos and make sense out of the elusive.

Bardo est un mot tibétain qui signifie "intervalle", entre la mort et la renaissance. Noise = bruit.
Intervalle de perception, intervalle entre deux mondes, pont potentiel entre le visible et l'invisible, Bardo_Noise est une installation interactive sur 8 écrans consistant à développer un contexte d'attention extrême en stimulant l'observateur avec un environnement saturé et sensible. Un système augmenté/perturbé de captations spectrales (spectre électromagnétique local et global) et de neige digitale nous invitent à faire une exploration de notre perception de la réalité en laissant libre cours a la faculté humaine à organiser le chaos et de donner du sens a l'insaisissable.
Bardo Noise est produite par MU (Paris)
en collaboration avec Cap Digital et la Région Ile-de-France dans le cadre de Futur en Seine
et avec le soutien d'ARCADI, du CNC-Dicréam, de la Maison des Metallos et de REMU.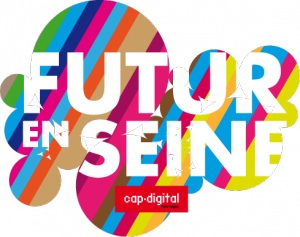 //
Ce « bruit » visuel et sonore incessant amène naturellement le visiteur à tenter de faire émerger des formes reconnaissables de ce terrain aléatoire. Les processus cognitifs de la perception, de l'appropriation, de la mémoire, de la représentation, de la reconnaissance et de la transformation sont ici stimulés de la manière la plus exponentielle : les variations/fluctuations subtiles et sensibles de cette neige cathodique et cette masse sonore saturée amènent à un contexte d'attention décuplé par l'attente d'évènements immanents. L'imaginaire de l'observateur en situation de vigilance, d'assimilation et de décodage est à l'oeuvre.
Cette expérience de Transcommunication place ici le visiteur dans une situation comportementale d'exigeance envers lui même, l'invitant à la fois à prendre conscience de ses processus perceptifs tout en le questionnant sur la nature imaginaire ou non de présences invisibles potentielles révélées grâce à la technologie.