EROS3
INSTALLATION/LIVE CINEMA for 5/10 screens
EROS3 is an evolutive trilogy, immersive and contextual project containing real sex actions and nudity.
EROS IS EROS IS EROS (2004)
EROS:AGAPE (2007)
EROS:MUTAGEN (2009)
The project started during a 1 year fellowship at KHM in 2004, working with Flame and Inferno softs on Silicon Graphics, then evolved from a simple video installation to real time video processing associated with generative content, using Max/Msp/Jitter and craze open source soft IanniX.
EROS3 took place in different contexts such as galleries or live acts in digital arts festivals.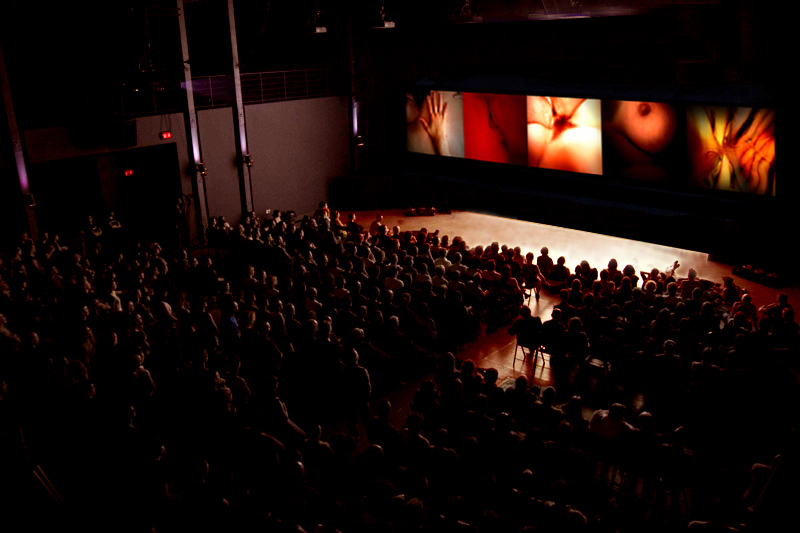 Elektra festival – Montréal – 2007
complete performance of EROS:AGAPE @ Elektra festival, USINE C – MONTREAL in 20070511.
part 1 :
http://www.dailymotion.com/video/x869t6
part 2 :
http://www.dailymotion.com/video/x86ab4
Eros, marqué durablement par Platon et la chrétienté, dimension interdite, rejetée, signé de l'insaisissable d'une dia-bolè sensible. Eros, manqué dans l'histoire, qui au moment même de sa possible reconnaissance (XVIIème, XVIIIème siècle) s'est distillée peu à peu, par le passage de l'écriture à la photo-graphie, sur les surfaces scintillantes ou glacées des écrans ou des revues spécialisées. Eros interdit, dans le déni d'un dire, qui pourrait amener à conclure qu'entre sa condamnation et sa libération extrême et pornographique, il aura été manqué, il sera resté l'inapparent de ce qui nous anime : notre désir et sa vibration charnelle.
Joachim Montessuis, créateur de composition video-poético-sonore (La danse des fous), dans la lignée généalogique de Chopin, de Duchamp ou Filliou, avec eros eros eros, ouvre justement cette dimension de l'interdit, non pas dans un logos, mais par la création d'un état vibratoire devant permettre de ressentir ce qui détermine le flux sensible d'eros. Errance de la répétition qui tourbillonne, eros visuel et sonore, loin de toute pornographie, qui pour sa part vise immédiatement à l'excitation narcissique de sa jouissance annoncée. Errance de cette répétition steinienne, a rose is a rose, because eros is eros, il a travaillé avec ce projet, à transformer l'excitation qui détermine notre époque, en la retenue vibratoire d'images et de flux sonores qui par leur caractère numérique, loin d'indiquer directement la nudité et la prostitution (pornè), renvoie à la distance, à l'entre-deux, au jeux hypnotiques de corps qui se mêlent dans l'incroyable impossibilité d'en faire un commerce ou d'être vu à la lumière crue d'un appétit de consommation.
Car avant de dire eros, il faut en sentir le flux charnel. C'est parce que l'occident a été obsédé par le langage et l'objectivité, qu'il l'a manqué tout à la fois en le rejetant ou en le suprématisant. C'est en ce sens que Montessuis propose, avant tout discours, la plongée dans une image de cette sensibilité qui ne fait qu'esquisser, suggérer, montrer sous les traits du voile, de l'écart, le désir des corps. Car, de toute évidence, eros, tension de désir, n'est jamais un terme, mais un entre-deux, l'intensité vécue d'une ouverture de soi à la présence de l'autre ou des autres. Ainsi, Montessuis invite à nous rouvrir la question d'eros, en revenant à la dimension qui était déjà posée dans l'amour courtois, dont lui-même fait mention, à savoir comme moment d'une rencontre qui loin de toute ligne droite – ce qui caractérise selon Adorno  la liaison contemporaine – en revient aux chemins détournés, sinueux et aventureux qui amènent les corps à se nouer et s'enchevêtrer. Cette composition alors ne serait-elle pas l'initiation à une tension amoureuse du corps, dont nous portons le deuil depuis déjà des décennies ?
Philippe Boisnard


Eros, long stigmatised by Plato and Christianity, is a forbidden dimension: rejected, marked with the sign of a sensorial dia-bolé that perpetually escapes us. Eros, that history missed: at the very moment its recognition could have taken place (during the XVIIth and XVIIIth century), it gradually faded, because of the shift from writing to photography, on the glazed or scintillating surfaces of screens and adult magazines. Eros was banned, but the denial of any spoken sentence leads us to conclude that between its condemnation and its extreme pornographic liberation, it will have been missed and will have remained the hidden dimension that animates us: our desire and its carnal vibration.
Joachim Montessuis, poetic sound and video composer (La Danse des Fous, The Dance of the crazes), as an heir of Chopin, Duchamp or Filliou, opens up this forbidden dimension in Eros Eros Eros. He does so not through the language of Logos, but by creating a vibratory state allowing us to feel what drives Eros' sensorial flow. The erring of a whirling repetition, a visual and sonic Eros, is far from any kind of pornography that is aimed at the immediate narcissistic excitement that leads to a predictable bout of enjoyment. This confusing repetition is reminiscent of Gertrude Stein: a rose is a rose because Eros is Eros. Joachim Montessuis worked with this project, transforming the sexual excitement that determines our era into a composed and vibrant flow of images and sounds. Their digital character, instead of directly indicating nakedness and prostitution (porné), leads to a distance, to the ineffable, to the fascinating dance of bodies meeting. The amazing fact is that nothing can allow anyone to make a commercial use of these bodies, or to regard them crudely as consumable objects.
In order to express Eros, one must first feel its bodily flow. Precisely because the Western world was obsessed by language and objectivity, it missed Eros, simultaneously rejecting and idolising it. In this sense, Montessuis proposes, before any discourse, to plunge in the images of a sensibility that only sketches out suggestions of physical desire through the presence of a veil and a discrepancy. Indeed, Eros and the tension of desire is never a term, but a relationship, the intense experience of oneself opening up to the presence of another, of others. In this sense, Joachim Montessuis invites us to rediscover the question of Eros, by returning to the dimension already apparent in medieval courtship (Amour Courtois) to which he refers. By no means a straight line typical of contemporary relationships, if we believe Adorno, but the encounter that leads bodies -through convoluted and adventurous detours- to intermingle and unite. Is this composition anything else than an initiation to an amorous tension of the body, something we have been mourning for, for decades already?
Philippe Boisnard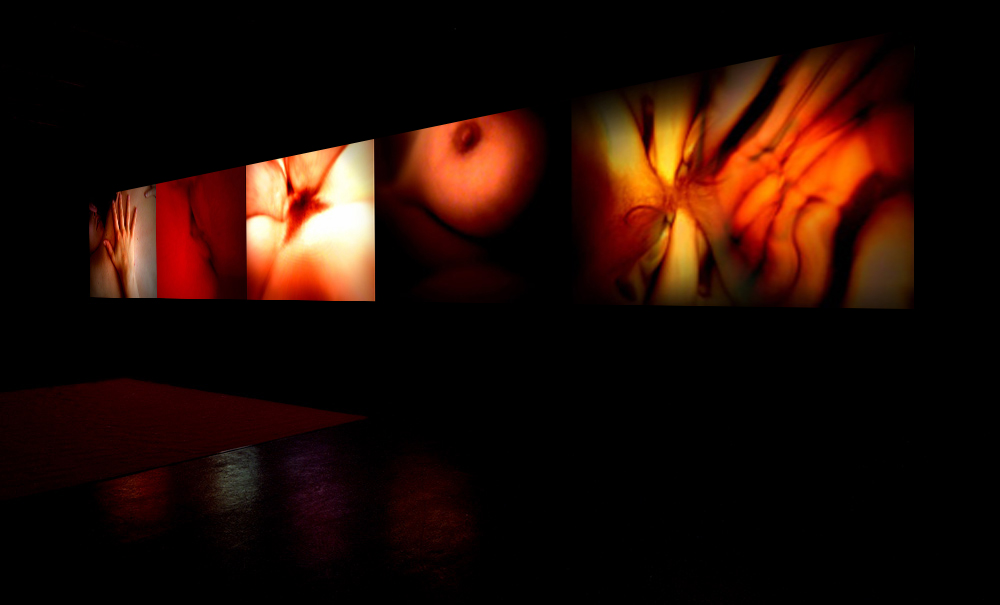 Mains d'Oeuvres – Paris – 2005

Technical rider :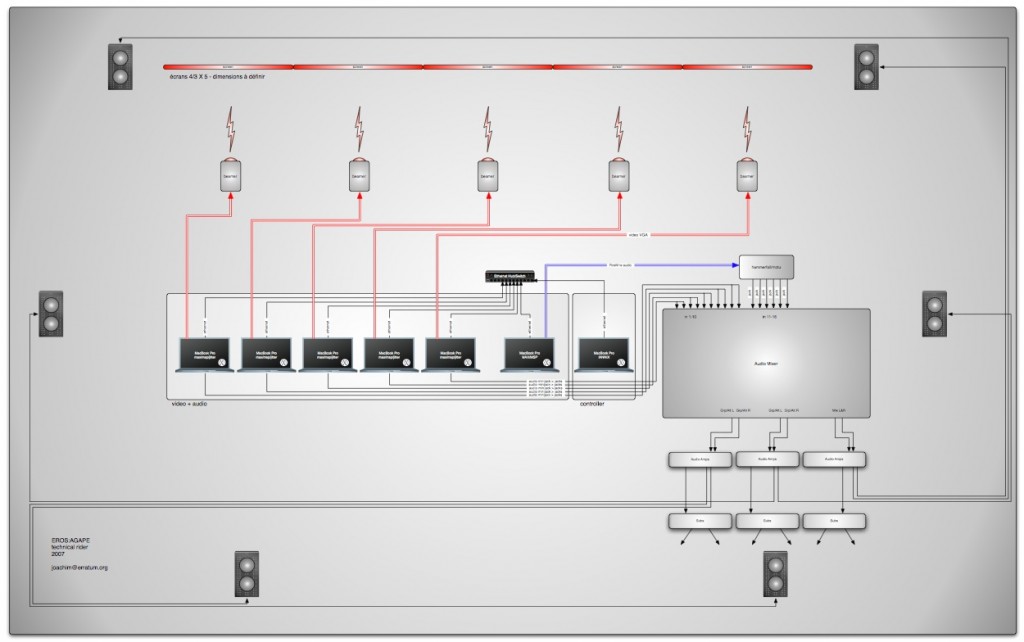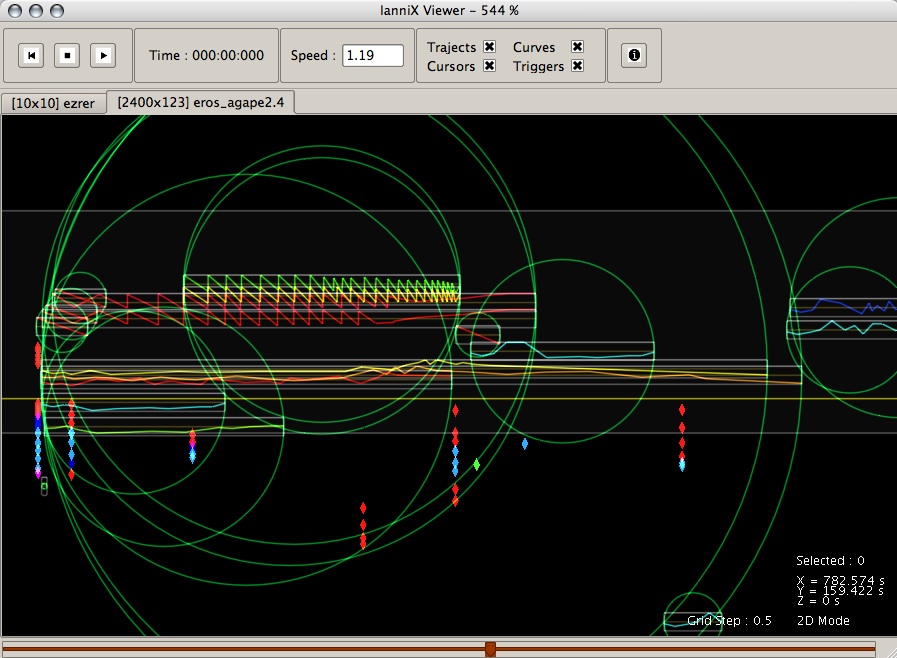 production : eternalnetwork/KHM/ARCADI/DICREAM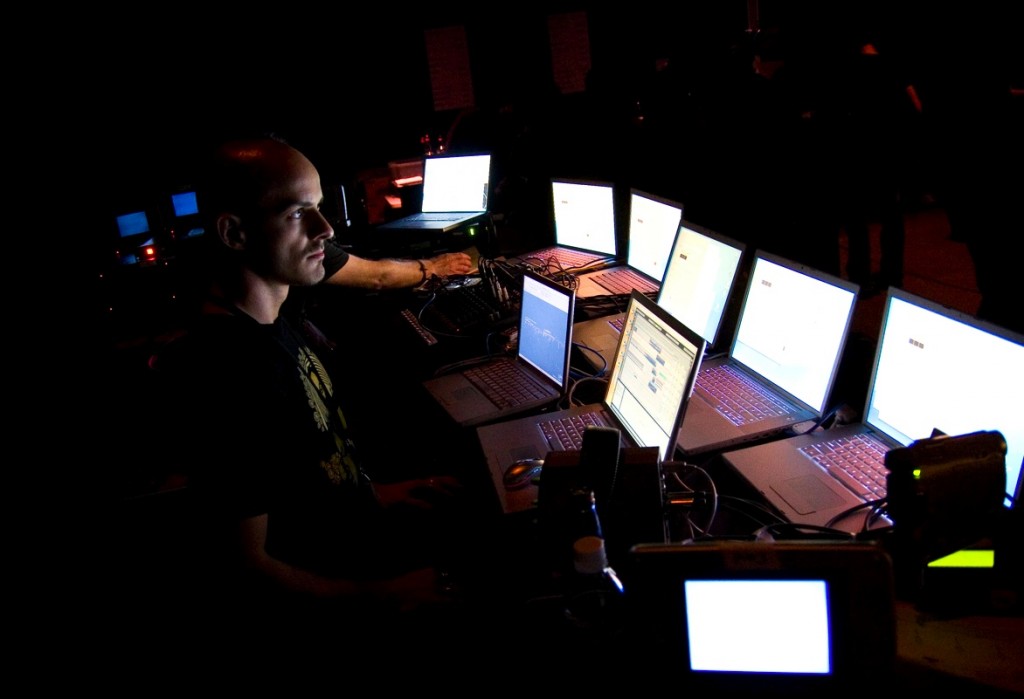 Elektra 2007 – picture Isabelle Dubé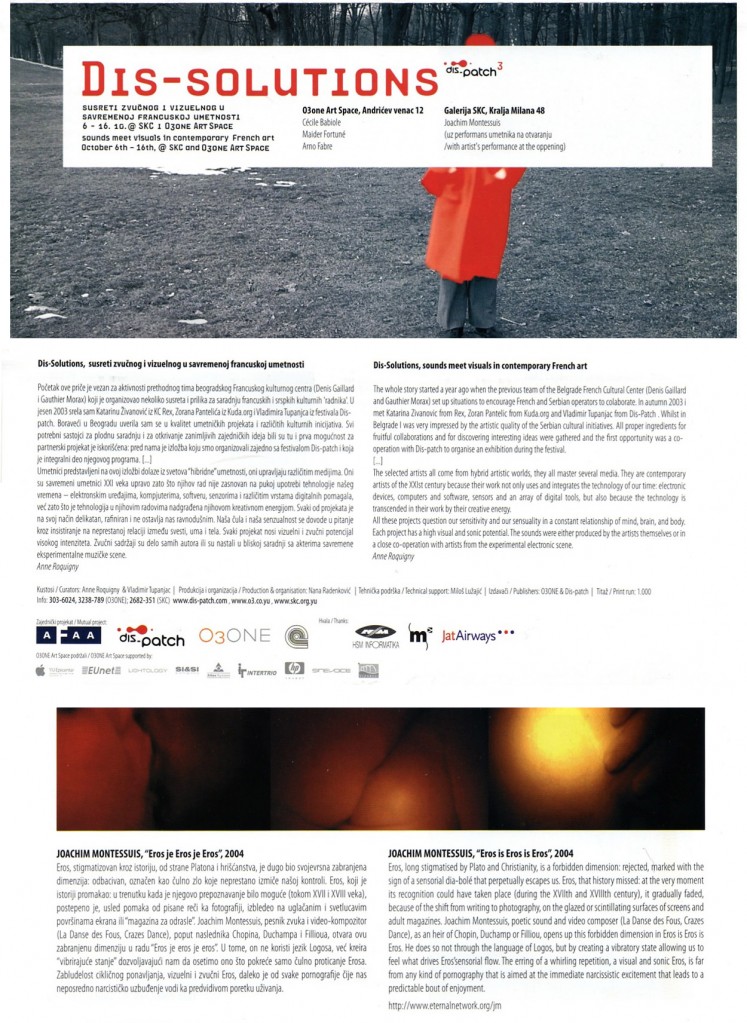 Tags: Video