Le Vray Remède d'Amour
regenerative meditative metal work
in process
LP's to be released in 2014
boîte à bourdon/guitare/max-msp.
This project gather through – a drone box (old device using 4 flexible sounds), one Stratocaster, one guitar foot switch and a computer – a childhood passion for medieval music and modal continuous music, here developed into microtonal hypnotic trance music to listen with closed eyes in a drug free environment.
Projet qui canalise – à l'aide d'une boîte à bourdon (vielle mécanique à 4 sons modulables), d'une stratocaster, de pédales d'effets et du logiciel max-msp – une très ancienne passion dévorante pour les musiques médiévales et les musiques modales à sons continus, ici développée en transe microtonale hypnotique, à écouter les yeux fermés et sans champignons.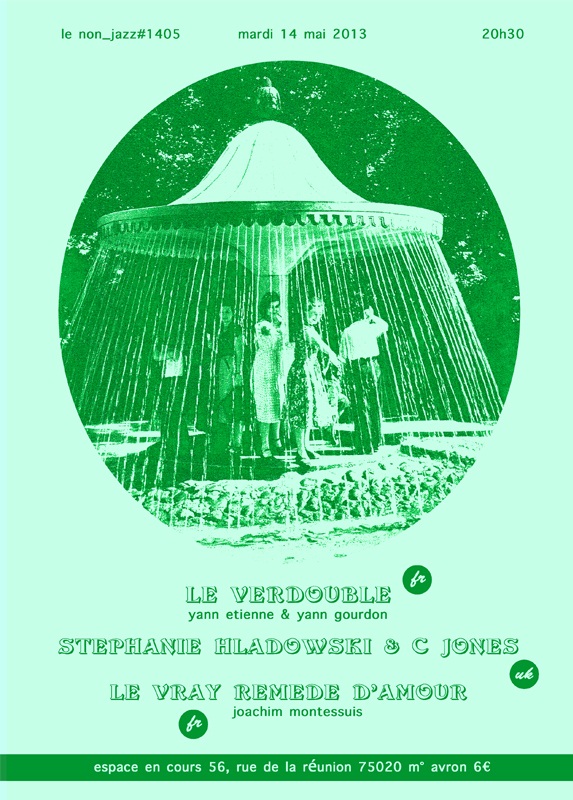 Le Non_Jazz#1405::
– – – – – mardi le 14 mai 2013 – – – – –
LE VERDOUBLE (fr)
STEPHANIE HLADOWSKI + C JOYNES (uk)
LE VRAY REMEDE D'AMOUR (fr)
Espace En Cours
56, rue de la Réunion
75020 M° Buzenval/Avron
20:30
6€
– – – – – – – drone-folk-drone-drone – – – – – – – –
LE VERDOUBLE (fr)::
duo des vielles à roues composé d'Yvan Etienne & Yann Gourdon – ce dernier connu
également comme 1/3 des électriques & électrisants (et trop rares)
kraut-rockers FRANCE
& aussi 1/3 des acoustiques Puech-Gourdon-Brémaud.
"Ni composé, ni improvisé, juste régi par un processus, leur travail sonore ne se veut que les résultats des phénomènes inhérents au processus lancé."
http://www.la-novia.fr/le_verdouble.html
http://wyy.free.fr/
http://ygourdon.net/

STEPHANIE HLADOWSKI + C JOYNES (uk)::
Difficile à dire dans quelle mesure le classique et magnifique album "Folk Roots, New Routes" (1964) de Shirley Collins & Davy Graham
a inspiré (ou pas) ce projet.
Difficile également de ne pas y songer en écoutant l'album
"The Wild Berry" enregistré par la chanteuse du duo HACWK AND A HACKSAW et l'un des meilleurs guitaristes folk de l'Albion contemporain.
Une voix brute sertie par un accompagnement à la guitare ou à l'harmonium.
Onze chansons – reprises issues du répertoire traditionnel britannique, servies par une interprétation
sensible et sans fioritures.
"The Wild Berry" est sortie sur le label Bo'Weavil (Henry Flynt, Oren Ambarchi, Reines d'Angleterre, Starving Weirdos, Josephine Foster, Tetuzi Akiyama, Sir Richard Bishop – "etc")
http://www.dustedmagazine.com/reviews/7431
http://www.boweavilrecordings.com/steph&chris.html
https://www.youtube.com/watch?v=wK4wigqfLB0
https://vimeo.com/43918954
LE VRAY REMEDE D'AMOUR (fr)::
Projet secret de Joachim Montessuis qui synthétise –  à l'aide d'une boîte à bourdon (vielle mécanique à 4 sons modulables) et d'un ordinateur – une très ancienne passion dévorante pour les musiques médiévales et les musiques modales à sons continus, ici développée en transe microtonale hypnotique, à écouter les yeux fermés avec unedreamachine et sans champignons.
http://soundcloud.com/joachim_montessuis/have-you-got-it-yet-syd